Our site has hundreds of wood dash kits for different vehicle makes and models. This great selection comes with the best quality in wood dash trim industry. All our dash kits are backed with a lifetime warranty. We offer a great variety of wood dash finishes including real wood veeners, real carbon fiber, aluminum, and even chrome. The simple installation instructions will help you install your new beautiful dash kit without a hassle. If you have any questions, you can always contact our customer service toll-free at 1-800-505-DASH.
PLEASE BE AWARE!!! There are many places where you can buy automotive wood dash trim, but not all of them sell quality products. Most of the wood dash retailers sell epoxy coated dash kits. After about a year and some exposure to sun, the color of the epoxy dash kit fades out and attains a yellow tint.

Our products are coated with Polyurethane, which involves and much more expensive and complicated manufacturing process. Therefore, our dash kits will never peel, fade, or crack. We back our dash kits with a Lifetime Warranty!



Please enjoy your shopping experience at our site!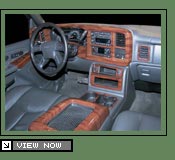 MOLDED DASH KITS. We have a big selection of molded dash kits. They consist of 3D formed parts that go on top of your original dashboard. Molded dash kits are not made for all vehicles, only for the ones that can not be covered by a flat kit due to a 3D shaped dash surface. Molded dash kits are made of premium synthetic materials that come with a lifetime warranty. Just as easy to install, these kits will greatly enhance the interior of your vehicle.